This video presents a performance of new age sensation Secret Garden. The group is led by Rolf Lovland on the piano and Fionnuala Sherry on the violin. They are backed by the Irish choir group called Anuuna and the Odd R. Anfonsen Symphonic Band. The concert takes place at Maihaugen Hall in Lillehammer, Norway. The group performs some of its most popular songs, including "Children of the River," "Nocturne," "Wind Dancer," "In Our Tears," "Moving," "Pastorale," and "Songs from a Secret Garden." (Sharon Winter)
This video is an edited version, intros are removed, clapping and other commentary are removed. Basically this is a non stop musical performance.
Release Name: A Night With Secret Garden 720p-SharePirate
Genre: New Age, Live
Audio Bitrate: 192 Kbps
Format: mp4
Size: 731 MB
Shots
Stream
Track List
Guest
Members
VIP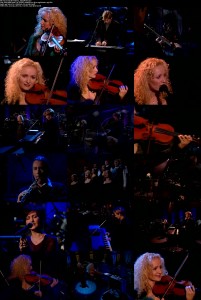 Songs From A Secret Garden
Pastorale
Children Of The River
Sigma
Nocturne
Steps
Passacaglia
Sona
Poeme
Moving
Adagio
Windancer
In Our Tears
Elan
Prayer
Heartstrings
Dreamcatcher
Celebration
Ode To Simplicity
Hymn To Hope
Dawn Of A New Century
This content is for registered users only. Please
login
.
Content for certified members only. You must
login
.
Hi im Anonymous, internet is supposedly have freedom for expression and data exchange. So here i am filling the gap of this messed up world have made. Dont forget to share what we share, you can use the ff:
Facebook Share, StumbleUpon, Tweet
or
Google +1
,you don't talk about us, you only share what we lend on :)